Largest Sailing Team Yet Wraps Up Successful Season
Senior Send-Offs, Growth, Sailing Victories, All Recognized During End-Of-Season Banquet
More than 50 high school sailors participated in the CYC High School Sailing program for the 2022-2023 season. That included students who attended nine different local high schools – Ashley, Isaac Bear, GLOW, Hoggard, Laney, New Hanover, Topsail, Cape Fear Academy, and the home school community. The program also welcomed 11 8th grade sailors who participated in line with Interscholastic Sailing Association (ISSA) rules. Nobile, Murray, St. Marks and WAAS were included in the team's ranks. This growth is supported by CYC's purchase of 18 Zim C420 sailboats.
Click here to see a slideshow of season highlights!
 Program Growth Highlights
The CYC High School program is being recognized at both the South Atlantic Interscholastic Sailing Association (SAISA) North District and national level. During the season, 37 teams went to the SAISA regattas. 

This program's growth created enough participation for the SAISA North District that JV teams were split into their own division at each of the points regattas. 

Cape Fear Academy kept sailing going after all but one sailor graduated in 2022. In a rebuilding year, Cape Fear Academy sailed all seven NP regattas under the CFA burgee. Henry Fanning was named as the team's MVP and Ray McDonald was recognized for his unwavering commitment and leadership to the CFA Sailing Team.

Teams with sailors from Laney, New Hanover and Topsail are growing with a full crop of 8th graders who sailed as part of composite teams for other schools. 

Ashley and GLOW formed teams and participated in half of the season's events. Ashley is on track to be a full Varsity Team next year. GLOW is fully supported by the school's administration.

Hoggard continues to grow and improve. Sailors represented the CYC High School Sailing program in

all

SAISA North Points regattas and the following:

SAISA District Singlehanded Championships – Jacksonville, FL – ILCA 6 and 7 Fleets

SAISA District Fleet Racing Championships – Wrightsville Beach, NC, Varsity

SAISA District Girls Champs – Jacksonville, FL, Varsity and JV

ACC Championships  – Annapolis, MD, Varsity

ISSA Great Oaks Regatta – New Orleans, LA, Varsity

Rose Bowl Regatta – Long Beach, CA, Varsity

Azalea Bowl Regatta – Wrightsville Beach, NC, Varsity 

Parent volunteer organization expanded to include a parent volunteer for each team and an advisory board for the greater program. 

Countless parents and volunteers supported events by serving on race committee for mock regattas and scored racing, towing trailers, assisting with practice, opening their homes and revamping team clothing designs which culminated with an online clothing store. 
Scores to all of high school sailing events can be found here.
Senior Send-Off
The Hoggard/Viking Sailing Team recognized six seniors during the end-of-season banquet. Each is transitioning to exciting opportunities.
Danny Diederich - A multi-year sailor, Danny is working as an electrician apprentice this summer. Going forward, he plans to continue his study in photography and wants to pursue a career in photography and filmmaking.
Sophia Getty - A first-year sailor, Sophia will participate in the National Security Language Initiative for Youth's summer study abroad program. NSLI-Y is a program of the US Department of State and designed to foster international cooperation by ensuring that Americans have the linguistic skills and cultural knowledge necessary to effectively communicate. Sophia will be studying Arabic in Amman, Jordan this summer.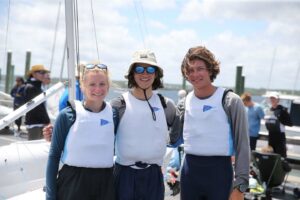 Andrew Simpson - A Varsity sailor, Andrew is working at CYC this summer as a dock master and plans to sail in the US Sailing Youth Triplehand Championship in Florida. In the fall, Andrew will continue his education at UNC Wilmington. He plans to study clinical research and join the Seahawk Sailing Team.
Tavia Smith - A Varsity sailor, Tavia is sailing in several 29er and C420 regattas this summer including the US Sailing Youth Champs in Rhode Island. In the fall, Tavia will continue her education at Roger Williams University in Bristol, Rhode Island. She plans to study business and finance and will be a member of the RWU Hawks Varsity sailing team.
Ben Usher - A Varsity sailor, Ben is working and coaching at CYC this summer while also attending US Youth Champs in Rhode Island and Thistle Nationals in Montana. In the fall, Ben will continue his education at NC State University in Raleigh, NC. He plans to study atmospheric science and will sail for NCSU SailPack.
Andres Valdiri - A first-year sailor, Andres is participating in the Bank of American Student Leaders Program this summer and also partiipating inthe FinTech Focus Online Internship. In the fall, Andres will continue his education at UNC Chapel Hill in Chapel Hill, NC. He plans to study computer science and business and join the Tar Heel Sailing team.